Yellow Bike Project
Program Updates:
Updated June 14, 2021
BIKE
p
ART
workshop
Bikes are fun – from top to toe! Let's celebrate each part through art, let's make BIKEpART! The workshop on how to make art out of used bike parts will be led by Annika Ostrom – artist, teacher & bike mechanic.
Annika graduated from Kenyon college with a B.A. in Art History and Studio Art. She primarily works with used and discarded materials to create mixed media works of art, but she also works in sculpture, installation art, fiber arts, and book arts. She currently works as an Early Literacy Tutor at Oak Springs Elementary School.
Entrance free. Reservations required through: ybp-art.youcanbook.me.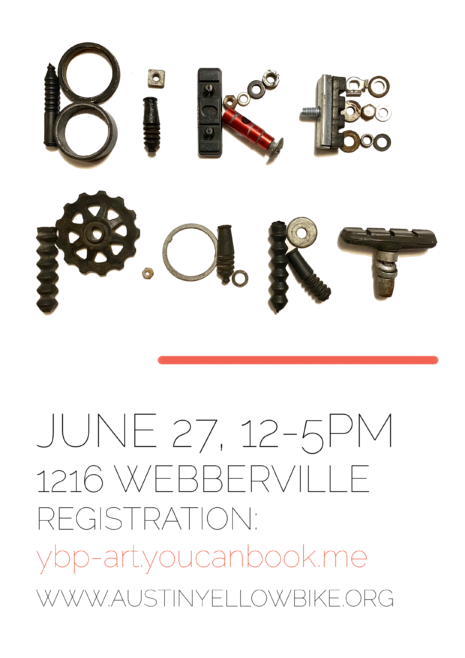 ---
BIKES
HAVE
THE
RIGHT
TO
CHILDREN
!
Over 100 bicycles have been distributed to kids from underserved communities together through our partner organisations and during our Sunday Spring Kids' Bike Giveaway. Big thank you to all mechanics who supported us in the last few moths to put those bikes together. We would also like to thank all our donors, thanks to which, we managed to equip the bikes with helmets. We would like to express big gratitude to all of you and each one of you who helped us make this event happen. Bikes have the right to children!
---
HAPPY
YELLOW
BIKE
'
S
BIRTHDAY
!
On May 30 Yellow Bike will turn 24. We celebrated our birthday through what we love doing the most – giving free bicycles to people. Hence, a special, spring edition of the Kids' Bike Giveaway. The giveaway was on May 30.
Also on the same day, a special, Yellow Bike's Birthday Social Ride started from Yellow Bike at 3PM. The route was about 14 miles long and visited important historical sites in East Austin, The Bike Zoo, and local breweries, too! Partners: Bike and Brew ATX; Black History Bike Ride Austin; Bike Tours and Rentals; The Bike Zoo. The event was free of charge.
---
---
Earn-a-Bike is Reinstated
As we are now offering both Volunteer Shops and Open/Community Shops both phases of Earn-a-Bike can now be completed. Please review YBP's Earn-a-Bike form. It explains the program and divides it into two supervised repair checklists: the first performed by E-a-B participants on any bikes YBP plans to donate; the second on the frameset participants earn on the first checklist. You may complete the first checklist at either Volunteer Shops or an Open Shops, And the second checklist at Open Shops. The checklists are self-paced and because the pool of E-a-B framesets come from donations, YBP cannot guarantee that there will be 1) one you like or 2) one that fits you when you're ready to choose one.
---
"In Shop" Sales of Parts and Bikes

Saturdays: Noon to 6PM
Reservations required

Our used parts inventory and refurbished bikes are available for shopping with a required reservation. COVID protocol must be followed; ie. masks and physical distancing.
When: Saturdays noon-6PM
Where: 1216 Webberville Rd
---
Donations: A Cornerstone of our Organization.
We thank you in advance, as it is your donations that provides the raw materials for our programs. Please remain at your vehicle, call 512-524-5299 for assistance. Open Tuesdays 2-6 PM.
Earlier this week, we were graced by three incredible Austin citizens. Target department store donated about 20 brand new bikes to them. They are active members of Reveal Resource Center of Austin, which is a non-profit primarily focused on food pantries and clothes closets serving low-to-moderate income families.
We are very touched by their generosity, and their recognition of YBP as a deserving recipient of their good fortune. We are proud to commend them, and Target for their hard work, commitment, and generosity.
---
Community Workshops (get help with your bike or learn mechanic skills on a YB bike)
Community (aka Open) workshops are by reservation only and fortunately, starting in January, these shop times have increased in numbers. Community workshops are offered every other Monday 6-9 PM, every Wednesday and Friday 6-10 PM and on Thursday of May 13 and May 27 (6-10PM). We still have 2 outdoor work stands in our front yard with some tools attached to them. If you want to help make more shop times available to people, you can volunteer toward becoming a shop coordinator The minimum commitment is 18hrs in a rolling 3-month period, and it can be some of the most gratifying volunteer work around. Reservations for the workshops are available now. Reservation required. Walk-ins cannot be accommodated, sorry.
---
Volunteer Workshops – (learn the skills to refurbish and/or maintain a bike)
We are welcoming volunteers into our Community Bike Shop.
WHO: Volunteers wanting to help YBP serve our cycling community.
WHAT: Volunteer workshops to refurbish bikes, organize parts, etc.
(unlike Community Workshop, volunteers may not work on their own bikes or projects, but may receive credit towards completing tasks required for the Earn-A-Bike Program). Volunteers can learn all the skills to fully refurbish a bike.
WHEN: First and third and fifth Mondays, and alternating Tuesdays 6-9 PM. Reservation required. Walk-ins cannot be accommodated, sorry.
WHERE: YBP Shop at 1216 Webberville Road.
---
WTF at YBP
Women/Trans/Femme workshop is on the schedule . Come hang out! Come wrench with us! No experience necessary.
This workshop is run similarly to our Community Workshops but in a supportive, all Women/Trans/Femme (WTF) atmosphere.
WTF hours are open to anyone who identifies as female, transgender, femme, genderqueer, trans-masculine, trans-feminine, or feels that their socialization or treatment as a woman, transperson, and/or femme has impeded their participation in bicycle mechanics.
(WTF language borrowed from the BICAS -Bicycle Inter-Community Art and Salvage website)
Bring your own bike project (or see what we have!) and use our tools with W/T/F-identifying mechanics on hand to guide you and answer your questions. Learn how to fix your bike, earn a bike through our Earn-a-Bike program or volunteer around the shop. Reserve your time HERE.
---
Bike Donation Programs
Volunteer Led efforts
A small team of volunteers continues to refurbishing bikes for our community partners, and schools. In the past 8 months, 102 bikes have left the shop to new riders in need of transportation to work, school, and errands. Our Volunteer Workshops is also providing support in these efforts. Thank you !!
---
And yes, Another Bike
Donation Program. YEA!!
Our newest program is a collaboration with multiple agencies and organizations put together with a grant from The Energy Foundation. YBP will pickup and refurbish bikes, then donate them to people in need of transportation. Bikes come from the Capital Metro Lost and Found. Local advocacy organizations PUMA, PODER, and GAVA will find recipients in need of a bike. Lights, locks, and helmets are included with each bike. To help clients become a long lasting cyclists, Ghisallo Foundation will provide safety training, and YBP will teach basic bicycle maintenance. We hope to form lasting relationships with all these partners in the hope of getting many more people on bikes! As always, the first and most important part of our mission is to provide free bikes to those who would not otherwise have access.
---
I Live Here, I give Here
Many Needs, Many Asks – Many Answered –
We are overwhelmed by the generosity of our supporters. It is with heartfelt thanks that we receive your donation so we may continue to offer free bikes to our communities in need, free bikes for kids to experience joy and freedom, and free workshops.
THANK YOU !
---
An annual event that aims at delivering bikes to underprivileged children around the holidays. The bikes are handed out through Austin's Yellow Bike Project's partner organizations; among them: Caritas, Foundation Communities and Settlement Home for Children.
---
Yellow Bike Project is a non-profit 501(c)(3) organization that has been working since 1997 to reuse bicycles and to provide tools, workspace, and guidance for all. To learn about all the different ways you can use the shop, click here!
We realize that YBP is many things to many people. For everyone eager to purchase a bicycle or replace your parts, get your hands on that one weird tool you need, or volunteer and learn mechanics all at the same time, we see you, and we hope we can serve you soon.
Love and solidarity,
YBP
Yellow Bike Project
1216 Webberville Rd
Austin, TX 78721
512-524-5299
austinyellowbike@gmail.com
YBP welcomes donation of money or goods from any person or institution with the condition that the YBP name or logo is not used for promotional uses. If approved by YBP, case by case exceptions may be granted.